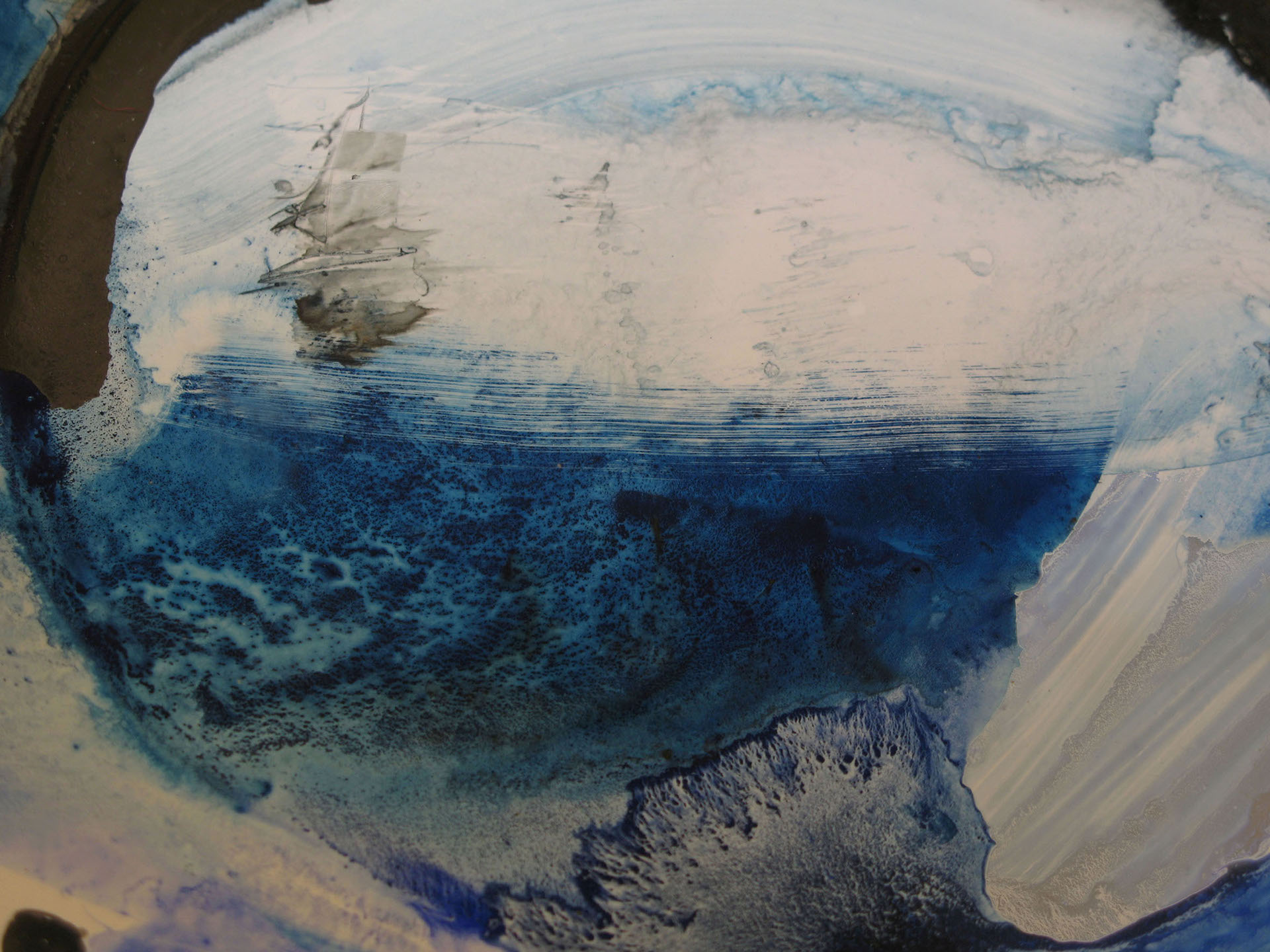 Olga Alexopoulou

, [Athenian born 1980], graduate of the Ruskin School of Art of Oxford University. In the last years her works have been exhibited in museums like Nigbo in China and her solo shows in the Ethnological Museum of Thrace, the Museum of Spyros Vasiliou and her latest solo exhibition at the Pinakothiki of Piraeus, but also in galleries around the world. Olga was 'Artist in Spotlight' for 2014 at the International Exhibition Tio Ilar Athens and was chosen to represent Greece in the global graffiti event 'She's a Leader' by Women's Forum. She has completed the largest, so far, graffiti in Greece for the European Maritime Day 2015 and was invited to the award winning Street Art Österlen festival, Sweden.
The historian Nikos Sigalas, Institut Français d'Etudes Anatoliennes, writes: The work on display constitutes nature's epic: austere in words (in the signs of men) yet powerful as the hour of the tempest or a summit's moment of illumined unconcealment. If one was inclined to literary analogy, one would refer to excerpts from Conrad or Melville. "Isabella" an outlandish and mysterious work, yet far removed from mysticism and the pretentious, is steeped in an oceanic feeling, similar to what one encounters in Moby Dick - and the storm battered caravel cannot fail to remind the readers of the Great Eastern, the haunted sailboat Alberta. While the "Storm" which is fluid and erratic like the infinitesimal snapshot of a tempestuous sea, brings to mind those moments in Conrad's rich yet precise language, when we are given the awe of the seamen confronted by the vast, ineffable ocean. And one could go on, with more references to thrifty and ecstatic works - for all genuine ecstasy is not ostentatious.
No such literary exercise is necessary. Olga Alexopoulou is sparing with words, her images speaking in silence, mute words in a language beyond the common sign, a turbulence of depth. How far beyond language reposes a summit, an arctic landscape, a thriving anemone, the sea itself. And how far beyond theatre; yet still a play, that does not limit itself to detailing complexes, but rejoices in song - not the wild bacchanal, but the serene, omnipotent eternal joy of nature, whose dominion we pretend in vain to have mastered. What is communicated through Olga's work is that art, mirroring nature, remains forever untamed, impossible to be exhausted by our ambitions. It lies exactly where those ambitions end, in the vast untamed dominions that life's communion with the imagination opens up before us; in the stars, the seas and summits that exist all around, while dwelling deep within.
Solo Exhibitions
————————————————————————————————————————————————
November 2016              Pinakothiki of Piraeus, 'Quickening', Athens, Greece
September 2015             Museum of Spyros Vasiliou, 'Olga Alexopoulou - Paintings', Athens, Greece
September 2014             Tio Ilar, 'Artist in Spotlight: Olga Alexopoulou', Athens, Greece
May 2014                        Ethnological Museum of Thrace, 'Sketching the City', Greece
August 2012                    M-Art Space, 'Cobalt + Porcelain', Aegina, Greece
May 2012                        Gallery Kourd, 'Cobalt + Porcelain, Athens, Greece
April 2012                        THAT Space, Caravansaray, Floating Projection, Istanbul, Turkey
June 2011                        Artville Gallery, 'Far from the cities', Athens, Greece
November 2007               Artville Gallery, Solo Exhibition, Athens, Greece
January 2002                  X-Change Gallery, Solo Exhibition, Oxford, UK
November 2001              Ruskin School of Drawing and Fine Art, Solo Exhibition, Oxford, UK
Group Exhibitions
————————————————————————————————————————————————
September 2017                  Stavros Niarchos Foundation, 'Remember', Athens, Greece
September 2017                  Istanbul Concept, '10x10', Istanbul, Turkey
July 2017                            Museum of History and Folkart, 'Kazantzakis', Aegina Island, Greece
May 2017                            Biennale Internationale d' Art Mural – BIAM, France
May 2017                            'The Case for Kapodistrias', Folk Historical Museum of Larissa, Greece
April 2017                           Ianos, 'The places of: Nikos Kazantzakis', Athens, Greece
February 2017                                Ianos, 'Patari 5', Athens, Greece
December 2016              Athineon, Dark, Athens, Greece                                                                                                       October 2016                  Art on a Card, CIRCUIT, Istanbul, Turkey                                                                                         October 2016                  National Historical Museum, curated by Iris Kritikou, Athens, Greece
October 2016                  Museum of Bouzianis, 'Unconscious Playground', Athens, Greece
August 2016                    Municipal Gallery of Nafplio, curated by Iris Kritikou, Greece
March 2016                     Abteilung für Alles Andere, Berlin-Mitte, Germany
March 2016                     Artshot Gallery, 'Little things', Athens, Greece
November 2015              CI: Contemporary Istanbul, Berlin Istanbul Quartier, Istanbul, Turkey
August 2015                    Museum of History and Folkart, 'The Kapodistria Case', Aegina Island, Greece
August 2015                    Poseidonion, 'L'Heure Bleue', Spetses Island, Greece
June 2015                        Artshot Gallery, Athens, Greece
May 2015                         Ulaşılabilir Sanat, 'In the search of...Ararken...Arayış...', Istanbul, Turkey
February 2015                 Genesis Gallery, 'Invitation to Dinner', Curated by Iris Kritikou, Athens, Greece
February 2015                 Ianos Art Space, 'Art upstairs', Athens, Greece
October 2014                   Women's Forum Street Art Project: She's a Leader, global event
September 2014              Casa Bianca – Municipal Gallery of Thessaloniki, Greece
May 2014                         Giorgio de Chirico Art Space, 'I heart Caprice', Volos, Greece
April 2014                         Tio Ilar 7, International Art Exhibition, Sismanoglio Megaro, Istanbul, Turkey
April 2014                         Ianos Art Space, 'Maping the City: Olga Alexopoulou – Alex Massavetas', Athens
February 2014                  M Art, 'I heart Caprice', Juried exhibition, Athens, Greece
December 2013                Ash in Art, 'Polis – Metropolis', Athens, Greece
November 2013                Ningbo Museum, 'Dazibao', Ningbo, China
November 2013                ARTE Gallery, 'Art has wings', Istanbul, Turkey
October 2013                    Ianos Art Space, 'Pencil and Paper', Athens, Greece
October 2013                    Austro Sino Arts Program and Embassy of the Arts, Organhaus, Chongqing, China
Septmber 2013                 Istanbul Graffiti Festival, Istanbul, Turkey
July 2013                          Graffiti project, Zero Station, Ho Chi Minh City, Vietnam
June 2013                         Tio Ilar 6, Athens, Greece
May 2013                          Auction for charity, St. Peter's College Chapel, Oxford, UK
April 2013                         'Tio Ilar 6', Sismanoglio Megaro, Istanbul, Turkey
December 2012                Art Suites, 'Nature's Object of Desire', Istanbul, Turkey
December 2012                Katakouzinos Foundation, 'A House for the '30s generation', Athens, Greece
September 2012               Street Art Istanbul, 'Renovation – Tarlabaşı', Istanbul, Turkey
December 2011                M-Art Space, Athens, Greece
November 2011                Gallery Kourd, Athens, Greece
September 2011               What if Artist Group, CWB, Hong Kong
November 2010               M-Art Space, Athens, Greece
November 2010               Give Hope, 'Helona', Athens, Greece
August 2010                    Gallery KG52, 'Spectacular Sights', Stockholm, Sweden
July 2010                         Booze Cooperativa, 'Carte Blanche VIII', Athens, Greece
May 2010                         Pontigny Room, Artweek exhibition, Oxford, UK
February 2010                 AVA gallery, 'Take Art/Leave Art, Tennessee, USA
February 2010                 M-Art Space, 'Love me', Athens, Greece
November 2009               M-Art Space, Athens, Greece
October 2009                   Elder Street Gallery, 'Communications', Houston, Texas, USA
May 2009                         Booze Cooperativa, 'Urban Forest: Prologue', Athens, Greece
May 2009                         Centre d'art la Real, 'Five Points', Spain                
December 2008               Badehane, Istanbul, Turkey
June 2008                        Synch Festival, part of the Festival of Athens, Greece
May 2008                         314 Gallery, 'Pharmacolagnia', Athens, Greece
February 2008                  G.I. Katsigras Museum, 'Public Screen', from the Thessaloniki Center of            
                                         Contemporary Art
December 2007               Artville Gallery, 'Advent', Athens, Greece
September 2007              Thessaloniki Biennale of Contemporary Art, 'Public Screen', Greece
August 2007                     FU Studiobühne, 'Ladyfest International Video Festival', Berlin, Germany
July 2007                          Rethimno Cultural Events, Public Space Video Exhibition, Crete, Greece
May 2007                         'Art Athina', represented by Selini Gallery, Athens, Greece
February 2007                  Bibliotheca Alexandrina, 'Alexandria: The Routes of Memory', Egypt
November 2006                Athens College Theatre, 'Penelope Delta', Athens, Greece
September 2006               Factory 798, 'Field of Vision', Beijing, China
May 2005                          APT Gallery, 'Creekside Open' 35 short listed artists, London, UK
April 2005                         SAKA, 'SAKA and Art', Athens, Greece
July 2004                          Standpoint Gallery, 'Inhibition', London, UK
October 2002                    Newlyn Gallery, 'Videoteque 2', Penzance, UK
October 2002                    Cubitt Gallery, 'Ruskin 02 MA Degree Show', London, UK
September 2002               TEN Gallery, 'Videoteque' International Video Festival, St. Ives, UK
May 2002                          St Edmund Hall, Artweek Exhibition, Oxford, UK  
August 2000                      Newtown Castle Gallery, International Group Exhibition, Ireland
May 2000                          Warwick University, Group Exhibition, Coventry, UK
Public permanent Collections:
Bildwechse, Hamburg, Germany
St Edmund Hall, MCR, University of Oxford
Athens College U.S. Trustees Office, New York
Awards and Distinctions 
————————————————————————————————————————————————
2008 – 2009 Visiting Artist at Mimar Sinan University: teaching a series of seminars, Istanbul, Turkey
March 1998 First Prize of Attica Municipality in the Pan-Hellenic Drawing Competition for Students
held by UNIPEDE
Spring 1996 27 th Annual Athenian Ball of the Athens College U.S Board of Trusties, New York City: Chosen work for the Brochure
May 1994 Selected Medal Prize of Drawing at the 25 th World School-Children's Art Exhibition held by the Republic of China